Proyectos: Modelos de NetLogo
En esta colección presento algunos de los modelos que se han ido desarrollando para diversos proyectos de investigación o como apoyo para algunas de las clases en las que hago uso de NetLogo.
Cuando se trata el tema de la IA aplicada a juegos normalmente se comienza hablando de los llamados Juegos con Información Perfecta (3 en raya, Conecta 4, Damas, Reversi, Ajedrez, y Go), generalmente basados en turnos, en los que todos los jugadores pueden acceder a toda la información disponible de los demás jugadores y donde no hay elementos de azar en la mecánica del juego (como podría ser el uso de dados). Aunque hay metodologías teóricas desarrolladas para generar jugadores artificiales para este tipo de juegos, como Minimax, resultan claramente insuficientes cuando la complejidad del juego es no trivial. En esta entrada analizaremos cómo se puede aplicar el algoritmo de Monte Carlo para obtener jugadores artificiales asintóticamente óptimos en una variedad de juegos que se han resistido a otro tipo de aproximaciones más clásicas.
Read More
Se ha añadido un apartado de cursos completos al que puedes acceder por medio del nuevo enlace "Cursos" en el menú principal de esta página. El objetivo es ir colgando cursos enteros de forma que estén disponibles independientemente de si se corresponden o no con una asignatura reglada actualmente.
Read More
In this post we will see implementations of Simulated Annealing algorithm.
Read More
This NetLogo model is a toy tool to launch experiments for Complex Networks.
It provides some basic commands to generate and analyze small networks by using the most common and famous algorithms (random graphs, scale free networks, small world, etc). Also, it provides some methods to test dynamics on networks (spreading processes, page rank, cellular automata,...).
All the funtionalities have been designed to be used as extended NetLogo commands. In this way, it is possible to create small scripts to automate the generating and analyzing process in an easier way. Of course, they can be used in more complex and longer NetLogo procedures, but the main aim in their design is to be used by users with no previous experience on this language (although, if you know how to program in NetLogo, you can probably obtain stronger results).
Read More
Read More
Gracias a la similitud existente entre la distribución topológica de los patches que forman el mundo bidimensional de NetLogo y la distribución de las celdas de un autómata celular 2D, nos centraremos en esta entrada en analizar la forma más sencilla y directa de modelar un autómata celular 2D haciendo uso de patches.
Read More
Read More
Ha salido ya el nuevo libro en español sobre NetLogo, de García-Valdecasas, orientado a disciplinas relacionadas con Ciencias Sociales. Se ha publicado dentro de la seria Cuadernos Metodológicos del CIS, y ofrece un punto de partida a aquellos que quieran empezar a utilizar herramientas de simulación multiagente en el análisis de problemas derivados de estas disciplinas. Aunque las aplicaciones prácticas las hace utilizando NetLogo, proporciona unas bases conceptuales suficientes para adentrarse en el mundo de la simulación de forma general.
Read More
This post has the goal to serve as guide for the session "Programming Mathematical Models ... with NetLogo" from the 5th International Summer School of Mathematics in Seville, between July 15th and 31st 2016.
For this reason, this post is more like a set of notes to focus our achievements that something to read from outside... sorry for those coming from outside the Summer School, as it can be of little interest for them. We will build a model to experiment with totallistic 2D Cellular Automata from scratch (and provide some optimizations for the Game of Life case).
Read More
Following with the simulation of Classical Elements in NetLogo, and after Earth and Water, we will address in this post how to simulate some fire features, but taking into account the same goals of decentralized and as simple as possible models.
Fire is formed by a set of incandescent particles or molecules of combustible material capable of emitting visible light. The flames are the parts of the fire that emit visible light, while smoke are physically the same but that no longer emit. Because the most common and graphical picture of fire is the flame, we will be interested in this post in simulate flame productions.
Read More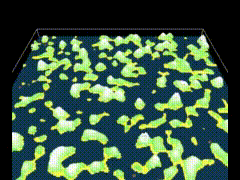 After Earth, and to continue with the simulation of Classical Elements in NetLogo, in this post we will give some simple, but very graphical and good looking, models to simulate the behaviour of water.
In this post we will simplify so much the assumptions that the model we will obtain only will be useful to simulate liquids under some conditions, but not gasses. You can find very realistic and nice simulation of different fluids behaviours under several and more general assumptions, but here we will give only a fast and simple way to obtain a behaviour that we visually recognize as a liquid.
Read More
With this post we begin a series of posts that aim to simulate the creation and behavior of the 4 classic elements of nature in NetLogo: Earth, Water, Fire and Air.
In this first post we will see one of the most classical algorithms for the formation of realistic landscapes: the mid point displacement algorithm. This algorithm handles only generate a map of heights above a defined level, then apply a flooding process, color and shading to create more realistic results.
Read More
In this post we present how to implement Self Organizing Maps (Kohonen, 1992) in NetLogo. Specifically, we will implement two versions, a first introduction example to project 3D colors in a 2D plane, and a second one where we can input a file with N-dimensional data and it will make a projection to 2D space mantaining the topological structure of the original vectors.
Read More
As a way to continue with AI algorithms implemented in NetLogo, in this post we will see how we can make a simple model to investigate about Artificial Neural Networks (ANN). We will restrict ourselves to the more common and classical ones, the Multilayer Perceptron Network... my excuses for those of you that are waiting to see here something about Deep Neural Networks (DNN, as those used in AlphaGo from Google, or CaptionBot from Microsoft), maybe in a later post I will try to think about how to extract the main features of some convolutional neural network and test it on a very simple NetLogo model, but I am afraid that we will need too many computational resources to obtain anything of interest with this tool... Who knows? I will keep thinking.
Read More
In this post we will see implementations of a couple of methods that, starting from initial states, will search in the state space by local moves that take us closer to the solution. As the space is more complex and bigger, more difficult is to find the solution, hence we will not be interested in the best path to reach the goal, and maybe we don't obtain the goal in a minimal time, but sometimes is good enough to reach it or to find a state that is very similar to one solution (that is, sometimes we change the best solution for a good enough one).
Read More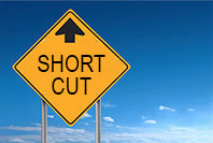 Among the different search algorithms that make use of partial information by using heuristics, the most famous is the A* algorithm, and in this post we will present several implementations of this algorithm in NetLogo, from a basic application of A* to be used a pathfinding algorithm in 2D grids to a more general version where we give some reports to be used as general problem solver.
Read More
In this post we will provide an agent based model that solves BFS in a generic way (as generic as it can be done with a standard NetLogo programming style). For that, we will start working with a very basic problem that can be solved as a search in a adequate way and then we will move to solve some other, bigger and more interesting, problems by using the same general solution. You can find a more theoretical point of view of search problems in this post or in this one.
Read More
Ya está disponible el nuevo libro de modelado con NetLogo, con versiones en inglés y español, con el que podrás aprender desde los fundamentos del lenguaje hasta conceptos avanzados que te permitirán crear modelos adecuados para comprobar hipótesis acerca de problemas complejos de cualquier disciplina. Al comprar el libro recibes ambas versiones por el precio de una. Además, una parte del precio que pagues por él se donará al Proyecto NetLogo para ayudar a que siga evolucionando y proporcionando tantas satisfacciones a sus usuarios.
Now available the new book about modeling with NetLogo, with versions in English and Spanish, where you can learn from the basics to advanced concepts of the language, allowing you to create models to test hypotheses about complex problems of any discipline. When you buy the book, you get both versions for the price of one. In addition, part of the price you pay for it will be donated to NetLogo Project to support the continuous evolution of this wonderful tool.
Read More