Fundamentals of Accelerated Computing with CUDA C/C++

A Workshop of the NVIDIA Deep Learning Institute
The CUDA computing platform enables the acceleration of CPU-only applications to run on the world's fastest massively parallel GPUs. Experience C/C++ application acceleration by:
Accelerating CPU-only applications to run their latent parallelism on GPUs
Utilizing essential CUDA memory management techniques to optimize accelerated applications
Exposing accelerated application potential for concurrency and exploiting it with CUDA streams
Leveraging command line and visual profiling to guide and check your work

Upon completion, you'll be able to accelerate and optimize existing C/C++ CPU-only applications using the most essential CUDA tools and techniques. You'll understand an iterative style of CUDA development that will allow you to ship accelerated applications fast.
An official certification from NVIDIA DLI will be issued after completing the assessment.
---
Access to the course
The content of the course is available through the NVIDIA DLI website under:

https://courses.nvidia.com/courses/course-v1:DLI+C-AC-01+V1/about
---
Poster of the course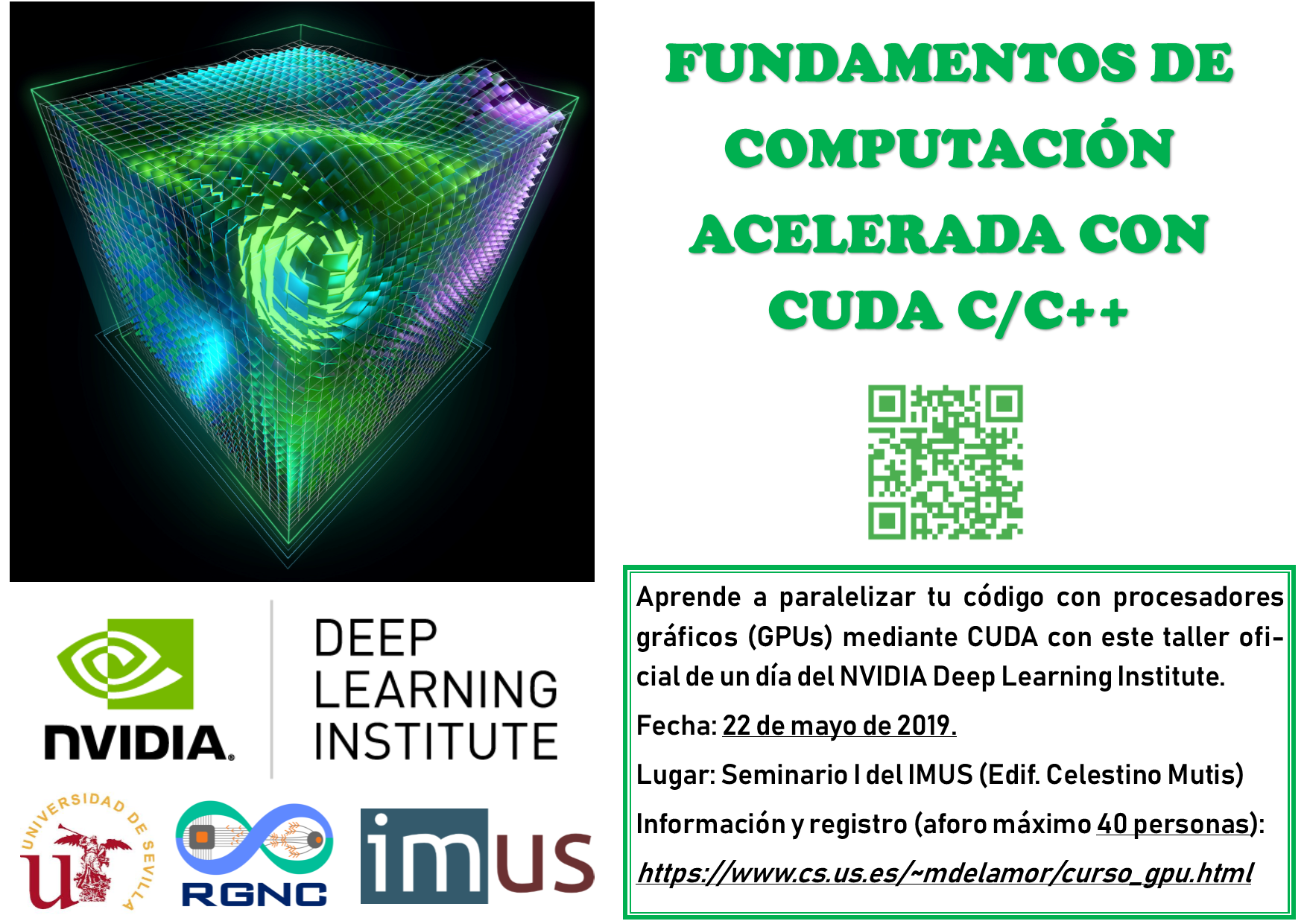 ---
Registration (Complete)
We are sorry, but the registration is no longer available because the maximum has been reached. Given the high demand, we are planning a new edition beginning next academic course, and you can use this form to show your interest and be in the wait list.


Edition May 2019

Time: Wednesday, May 22, 2019, 8:30 - 18:00

Place (new): H1.12, Escuela Técnica Superior de Ingeniería Informática, Avda. Reina Mercedes S/N, Sevilla (Spain)

Maximum seats: 40

Requirement: Basic knowledge of C/C++ (functions, pointers, memory allocation, etc.), a laptop with internet access with eduroam (no GPU is required, all computations are executed on the cloud).

Language: Spanish (content in English)

Access to the course content: click here

Registration: complete the form below

Trainer: Miguel Ángel Martínez-del-Amor

Scheduling (preliminary):
8:30 - 9:15: C by n examples (by Ignacio Pérez-Hurtado)
9:15 - 9:30: Registration and configuration of laptops
9:30 - 11:30: Workshop Section 1
11:30 - 12:00: Coffee Break (Seminar Alejandro FM H1.50)
12:00 - 14:00: Workshop Section 2
14:00 - 15:00: Lunch Break
15:30 - 17:30: Workshop Section 3
17:30 - 18:00: Time for assessment